Keystone: Private Diner for Four
Keystone™ Private Diner for Four
Private Diner for Four is part of the Keystone™ Modular Furniture System and provides a private collaborative work space within the open office for two to four users. Comfortable seating and upholstered walls create an inviting space for private meetings.

The free-standing unit can be placed anywhere in the office and can move to suit clients who require flexibility in their floor plate.
The soft, upholstered walls which incorporate exclusive nanofibre technology, help mitigate the impact of noise and collaborative efforts. This means both those inside and outside the pod can work more productively, free of distraction.
Add a table or a computer monitor to create a perfect spot for multi-media presentations or video-conferencing.

Note: Fabric in image provided by client.
Designed and made in New Zealand.
Dimensions:
2,200L x 1,600W x 1,300H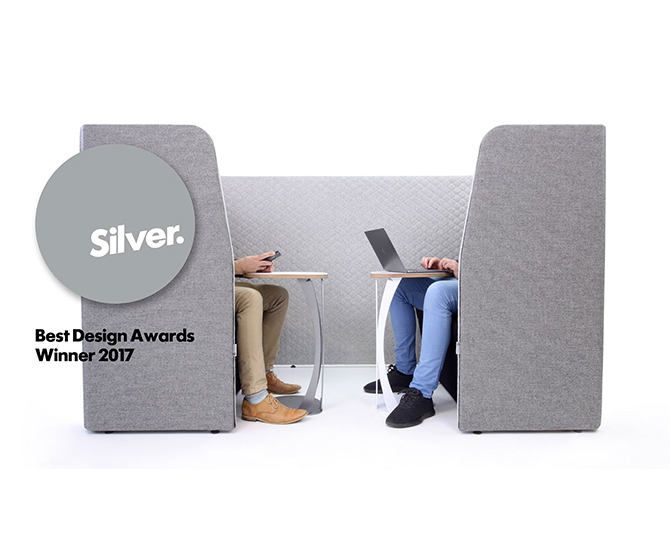 Winner of DINZ Silver Award
Options
Available in a variety of fabrics and colours.

Power/Data: In-wall conduit for power or data connections from floor or umbilical cords. Power pixels available in work tops.
Standard table available in Melteca (LPL) with edgebanding, Plytech Futura (European Birch HPL), or Plytech Spectrum Eco (Finnish Birch HPL). Prices vary.
Features
Includes world-leading Phonix™ nanofibre technology for superior acoustic performance and sound absorption.
Reconfigurable design is scalable and flexible - able to scale up and down with shifts in staff or change of location.
Low-VOC furniture tested to the standard ANSI/BIFMA M7.1.
Eco-friendly E1-grade MDF (low VOC) frame with proven and robust construction is built to withstand frequent reconfiguration and storage which means greater durability and long life of product.
Patented, custom wall connectors.
High resilience, commercial grade foam creates comfortable and inviting settings.
Sits on adjustable-height glides for easy levelling.
Wall units are able to nest for efficient shipping.
Learn more about Keystone.